Upcoming Talks
If you'd like to join our mailing list and receive notifications of upcoming talks, please fill out this form.
If you have any speakers that would be a good fit for our speakers series, feel free to send your suggestions to stewartspeakerseries@gmail.com.
You can also follow us on our social media platforms to stay informed of events and activities of GASSS:
LinkedIn
Twitter
Facebook
Instagram
Grace Anne Stewart Speaker Series
The Seminar
Dr. Emily Martin is a research physical scientist in the Smithsonian National Air and Space Museum's Center for Earth and Planetary Studies. Her research focuses on planetary surface processes and tectonic deformation across our solar system. In particular, Dr. Martin is interested in the evolution of subsurface oceans on Saturn's moon Enceladus and other icy satellites. She will be presenting Thursday, November 18th at 11 am MST.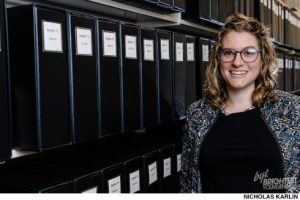 Abstract
Coming soon.
GeoWomen
About GeoWomen
GeoWomen is a volunteer organization providing space for women in geoscience careers, whose level of experience varies from new graduate to retiring at the top of their careers, to meet and share experiences.
The Seminar
Michelle Saquet is a professional geologist (M.Sc. P.Geol.) with 15 years of experience in energy. She started her career as a wellsite geologist working in the Western Canada Sedimentary Basin. In 2004 she joined Nexen Inc., where she worked as a production, development, and exploration geologist in a wide range of basins, play types, and countries. After being laid off from CNOOC in 2020, she enthusiastically used the time to discover what work and her career meant to her.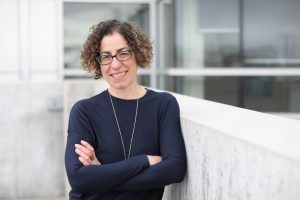 Their talk will be on November 16th from 12-1pm MST, titled: Starting a Consulting Business: Part 2. You can register for the event by 9 am MST November 15th here.
Abstract
Starting a business from scratch during a pandemic was a brave choice. Michelle decided to start Athena Subsurface, an incorporated consulting company that would connect multi-disciplinary energy professionals who offered a unique set of technical expertise with energy companies who lacked a skilled, functional technical team. The initial concept of Athena was to provide an asset team for hire, an arrangement benefiting both parties: companies would receive guidance on established technologies and best practices while staying agile and lean, Athena's technical team would gain experience in emerging opportunities.
How does one go about starting a business? This talk will cover the main learnings while building Athena Subsurface.
Attend a self-employment program to learn business planning, strategy, market research, marketing, and sales.
- Create a personal brand presence through LinkedIn
- Create a company brand and marketing strategy
- Focus on what makes the company different from competitors
- Network inside and outside of the energy industry in a way that best suits you
Entrepreneurial journeys require continual personal growth, passion, perseverance, and a positive mind set particularly during these challenging times in the industry. This presentation will provide a perspective, key learnings, and tools that may assist in navigating the geoscience consulting business path.
Scientific QUEERies Seminar Series
About Scientific QUEERies
Scientific QUEERies is a bi-weekly digital seminar series highlighting the research, work and experiences of LGBTQIA2S+ professionals in STEM. Started in Canada and growing with colleagues around the world. Scientific QUEERies was founded by two graduate students at the University of Alberta, Scott Cocker (PhD Student in Earth and Atmospheric Sciences) and Kyle Shanebeck (PhD Candidate in Biological Sciences) in Fall 2020 due an overall lack of initiatives promoting the LGBTQIA2S+ community in STEM, both in and out of academia. This initiative aims to increase visibility of the LGBTQIA2S+ professionals in STEM, and inspire students and early-career researchers by showing them that they do belong in all disciplines.
The Seminar
Dr. Lien Luong is an Associate Professor in the Department of Biological Sciences at the University of Alberta and will presenting on Tuesday, November 16th at 1pm MST, titled: Parasitism and the Ecology of Fear: Being a Queer Asian Woman in Science.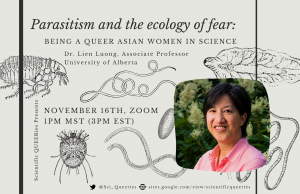 You can join the Scientific QUEERies mailing list here to be updated on this and future talks.
About the Speaker Series
The Grace Anne Stewart Speaker Series is a student-led initiative which aims to connect students and faculty of the Earth and Atmospheric Sciences department to a greater diversity of geoscientists. We hope that the speaker series can introduce students and faculty to novel scientific problems, engage researchers from various sub-disciplines, and represent a diverse cross-section of the many talented researchers in the geoscience community. Our hopes are to open a dialogue about gender, sexual orientation, race, ethnicity, ability, and neurodiversity in geoscience with the intent to foster a welcoming and encouraging community. As we adapt to the 2020 pandemic, our series has moved online. Our current platform hosts speakers from outside of the UofA for monthly ~1hr online research seminars followed by open discussions about diversity and career direction.