Upcoming Talks
If you'd like to join our mailing list and receive notifications of upcoming talks, please fill out this form.
If you have any speakers that would be a good fit for our speakers series, feel free to send your suggestions to stewartspeakerseries@gmail.com.
You can also follow us on our social media platforms to stay informed of events and activities of GASSS:
LinkedIn
Twitter
Facebook
Instagram
Grace Anne Stewart Speaker Series
The Seminar
Join us September 2022 for the continuation of our speaker series.
ATLAS Symposium
ATLAS will be hosting an Equity, Diversity, and Inclusion-oriented panel for the 2022 ATLAS Symposium titled "Alberta's Leaky Pipeline: The Education Brain Drain." The panel will occur on April 8 at 12 pm MST in 3-36 H.M. Tory Building. No registration required.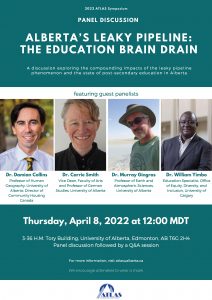 GeoWomen
About GeoWomen
GeoWomen is a volunteer organization providing space for women in geoscience careers, whose level of experience varies from new graduate to retiring at the top of their careers, to meet and share experiences.
The Seminar
GeoWomen will be hosting a talk titled "The Reluctant Creative: 5 Effortless Habits to Expand Your Comfort Zone" by Dr. Caroline Brookfield on Tuesday, April 26th at 12 pm MST. To attend this talk, please register here.
Abstract
Explore the evidence that touts creativity as the number one skill you need in this decade to influence resilience, build confidence in uncertainty, amplify job performance and satisfaction, and even increase your salary.
Creativity is your elemental human gift. You might not be an artist, but everyday creativity is in you. In a good way, like a deliciously warm meal, not an alien-took-over-your-body way. When you make a presentation, build a pivot table, plant a garden, or sneak vegetables into smoothies – you're tapping into your own creativity. Learn 5 effortless habits to use in a few minutes a day to amplify your unique creativity.
Scientific QUEERies Seminar Series
About Scientific QUEERies
Scientific QUEERies is a bi-weekly digital seminar series highlighting the research, work and experiences of LGBTQIA2S+ professionals in STEM. Started in Canada and growing with colleagues around the world. Scientific QUEERies was founded by two graduate students at the University of Alberta, Scott Cocker (PhD Student in Earth and Atmospheric Sciences) and Kyle Shanebeck (PhD Candidate in Biological Sciences) in Fall 2020 due an overall lack of initiatives promoting the LGBTQIA2S+ community in STEM, both in and out of academia. This initiative aims to increase visibility of the LGBTQIA2S+ professionals in STEM, and inspire students and early-career researchers by showing them that they do belong in all disciplines.
The Seminar
Dr. Kenro Kusumi is a Professor with a focus on conservation biology and evolution, and Dean of Natural Sciences at Arizona State University and will presenting on Tuesday, April 12th at 1pm MST.
Dr. Claire Griffin is a postdoctoral fellow with a focus on aquatic ecosystems and climate change at the University of Minnesota and will presenting on Tuesday, April 26th at 1pm MST.
Abstracts
Coming soon.
You can join the Scientific QUEERies mailing list here to be updated on this and future talks.
About the Speaker Series
The Grace Anne Stewart Speaker Series is a student-led initiative which aims to connect students and faculty of the Earth and Atmospheric Sciences department to a greater diversity of geoscientists. We hope that the speaker series can introduce students and faculty to novel scientific problems, engage researchers from various sub-disciplines, and represent a diverse cross-section of the many talented researchers in the geoscience community. Our hopes are to open a dialogue about gender, sexual orientation, race, ethnicity, ability, and neurodiversity in geoscience with the intent to foster a welcoming and encouraging community. As we adapt to the 2020 pandemic, our series has moved online. Our current platform hosts speakers from outside of the UofA for monthly ~1hr online research seminars followed by open discussions about diversity and career direction.