The Digital Imaging Facility is equipped with various types of photography equipment, to allow you to take high-quality photos of your samples. Computers in the facility are equipped with the latest version of Adobe software, to enhance image quality, and provide photo merge and stacking features. A light tent is available to help eliminate shadows and improve specimen illumination. Additional equipment includes:
tripods
light table
flash, flash diffuser
digital single lens reflex (DSLR) cameras
compact camera (Canon G16)
digital camcorder
various lenses and adapters
Which setup to use?
The following table may help you to decide which equipment to use with respect to object size(s):
object size
equipment
large objects
more than 10 cm
Nikon D90
24 - 120 mm lens
18 - 55 mm lens
medium size objects
5 - 10 cm
Nikon D90
24 - 120 mm lens
18 - 55 mm lens
60 mm lens
small objects
1 - 5 cm
Nikon D90
60 mm micro lens
Tagarno
+10 lens
very small objects
less than 1cm, more than 50 μm
Tagarno
+25 lens
+50 lens
Nikon D90
below & 35mm lens
Tagarno Lens to Object Distances
| LENS | Lens to object distance | Magnification on 22" monitor |
| --- | --- | --- |
| +4 | 250 mm / 9.8" | 1.6x - 47.3x |
| +5 | 200 mm / 7.9" | 1.9x - 59.3x |
| +10 | 100mm / 3.9" | 3.8x - 115.5x |
| +25 | 34mm / 1.34" | 9.6x - 297.1x |
| +50 | 33.5mm / 1.3" | 19x - 592.40x |
Nikon D90 camera setup
Tagarno (digital microscope) setup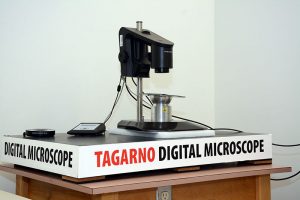 Examples
Here are some examples of photographs obtained using different setups:
Natrolite